Robots are the future. In fact, they are already such a massive part of our everyday lives, from toys your children play with to new-fangled automated lawn mowers.  
It's only going to get more common place as we progress through the 21st century. 
Your children will be living in a world which will become far more reliant on robotics and we predict that it's going to make many facets of their lives easier.  
By starting early, robotics can help to get a child interested in the core tech subjects such as science, technology, engineering and mathematics. 
And for your child's future? 
Robotics could also have an impact on future jobs, with studies predicting that more than 30% of the jobs will be automated by 2027*. Whilst that might sound like bad news, it's actually going to generate new and exciting roles that the children of today could be working in. 
By learning more about robotics your child could not only develop a passion that leads onto a career, but also be one of the people who develops the next generation of robots that could change the world for the better.  
Your child could be one of the people influencing what happens in this exciting new world of robotics and automation! 
FIND OUT MORE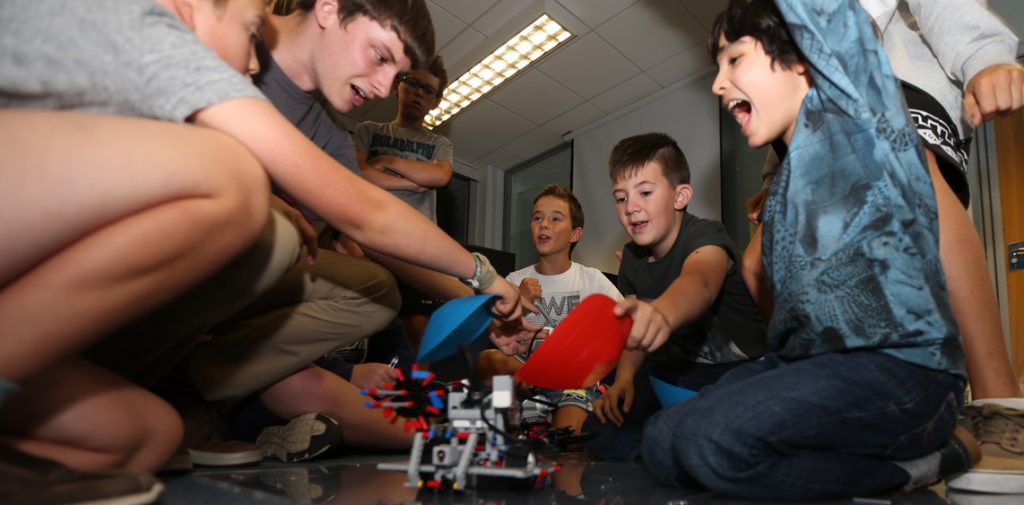 7 reasons kids should learn robotics
#1: Learning robotics is fun and engaging
One of the most important factors that will keep your child engaged and keen to learn is to keep things fun. As a parent you will know how attention spans can quickly wane unless your child is working on something that they love doing… and robotics is certainly one of those things.  
In a classroom environment, kids will often have fun competing to see whose robot wins a race or wins a challenge!
#2: Robotics can encourage team work 
Robotics can help you child learn how to work and collaborate with others. As a child progresses onto more complex tasks and coding, it can require them to work in larger groups, in order to create more complex robots that complement each other.  
This is particular true in kids' robotics camps where they will be encouraged to work on projects individually and together.  
You will find that your child will be asking a lot more 'what if' type questions – these are actively encouraged in robotics learning in order for them to understand what functions they need to build for their robot to operate effectively.  
#3: Robotics teaches your child how to think
The traditional way in which the western world's mainstream schooling has been prescribed is by a 'memory-based' approach. You will be familiar in having to learn your times tables, or simply mimic back what the teacher has told you in order to pass a test. 
Robotics is very different. It forces your child to think in a logical-based approach, by trying to solve a problem where this is no existing blueprint – as parents we should encourage our children to be creative and critical thinkers. 
#4: Understanding robotics can help to demystify fears
We believe that kids who learn robotics will have a huge appreciation of what the technology can bring to areas such as defence, healthcare and manufacturing – plus constructive ways in which they could make the world a better place.  
#5: Robotics can teach your child how to code
Previously on our blog we have talked about how kids that learn to code can do better at school, be more confident, plus think logically and creatively. You can read more about that with our 13 reasons why a child should learn to code.  
Coding itself though is a very abstract task, but by using code to program a robot, your child can see much clearer how their actions and instructions lead to an end result.
The language of code is commonly referred to as the world's language.  
If a child learns to code (and robotics is a great way to do so) they will gain a better understanding of how the world around them works and give themselves far better employment prospects for the future.  
Start you child on this exciting journey today!
FIND OUT MORE
#6: Robotics can lead to interesting job prospects
Whilst robots will be replacing certain jobs in the future, robotics will also create new and previously un-required jobs. In fact, even now in the UK there is a real shortage of skilled applicants who are able to code, program and work in the robotics field.  
#7: Robotics is suitable for all kids of all abilities
Research conducted by the University of Portsmouth is aiming to develop robots that can help children with autism. This new research is backed up by existing evidence that shows children on the autism spectrum respond very well to the clear and calm interactions that robots can provide.  
There are existing robotics platforms already on the market to help teach autistic children, including the ASK NAO and Milo robot.  
---
How to teach your child robotics
As you can see, there are plenty of compelling reasons why a child should learn robotics, but unfortunately it isn't something that many schools currently offer on their curriculum.  
But, there are summer camps and classes available outside of term times where your child can start on this exciting journey – such as the ones available at FunTech. 
BOOK ONLINE
What type of job could your child have in the future?
Just because a child has an understanding of robotics, it doesn't mean that are going to become an engineer, although that will be one definite avenue they could explore. 
Many jobs now, and more so in the future, will become influenced by robotics, with robot applications and usage set to increase. 
There will be many different sectors that rely on robots and need candidates with skills in this field. A child who has a background in robotics could work in health, biology, education, construction, manufacturing, and any other field where robots could be needed.  
Primarily, by using robotics we can introduce children to programming. Given how the world is changing, the opportunities are potentially limitless if a child has an aptitude for coding.  
At what age can kids start to learn robotics?
The FunTech robotics camps are designed for children age 7 to 14 years old.  
Our focus is all about taking the passion a child may already have for engineering  and robotics and equipping them with the skills to take them to the next level.  
We are currently taking bookings for summer classes outside of term time for: 
Your child will build and customise their own Lego robot implementing different concepts including coding, pathfinding and navigation.  
All of our LEGO Robotics summer camps have a grand finale where your child will compete in various events – at FunTech we're committed to helping children learn in a fun and interactive environment. 
Why choose FunTech robotic camps?
We are Ofsted Registered 

 

We have an average of 8 to 1 pupil to tutor ratio

 

We offer a structured learning environment

 

We have been established since 1996

 

We run summer classes that are scheduled 09:00 to 17:00 

 (optional 08:30 to 17:30)
Book now to avoid disappointment 
The FunTech robotics classes are very popular and to tend to fill up very quickly.  
If you would like to explore the dates and venues available, plus find out a little bit more about how you child can learn robotics, please click the button below to get started. 
LEARN MORE
By helping your child learn to use and understand robotics, this could give them an advantage in both school and their future career prospects.  
* https://www.thersa.org/discover/publications-and-articles/reports/the-age-of-automation
---
Keep me informed
Be the first to know about Flash and Early Bird Sales as well as new courses, summer locations and more.
KEEP ME INFORMED