Robotz
Calling all Robot Controllers...

| | |
| --- | --- |
| Age: | All ages |
| Pre-requisite: | None |
| Duration: | 5 Days, Monday to Friday, 9am to 5pm |
| Fee: | £395 |
| Invitation: | Parents invited to 'MAX Out Races' - Fri: 4:30pm |
Mission 1: Initial Training
Master the coding, motors and sensors required to control a robot.
Mission 2: Build a Bot
Build and modify your robot to achieve the best combination of speed, agility and intelligence.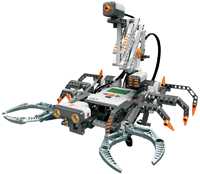 Mission 3: Challenge Zone
Your robot has to successfully complete the Challenge Zone, which includes Zero Collision, Patrol Bot and many more challenges. Once completed you will be awarded your PASS STATUS for Mission 4.
Mission 4: Mission Impossible
Your robot will compete with all other PASS STATUS robots in the Bomb Disposal, Speed Zone and Anti-Collision missions. Before each mission, you will be given PIT TIME, where you can change the robots design and code to improve its performance
Mission 5: MAX OUT – Robot Races
Prepare for the MAX Out grand finale! During your PIT TIME you will need to make sure your robot is finely tuned to be able to get through the challenging obstacle course in the fastest time...
Other Holiday Camps